Sold - Little Redstone Lake Little Redstone Lake, Haliburton
"4 season retreat in the heart of Haliburton."
Quick View
Location: Little Redstone Lake, Haliburton
Bedrooms: 5
Bathrooms: 2
Approx. 3500 sq. ft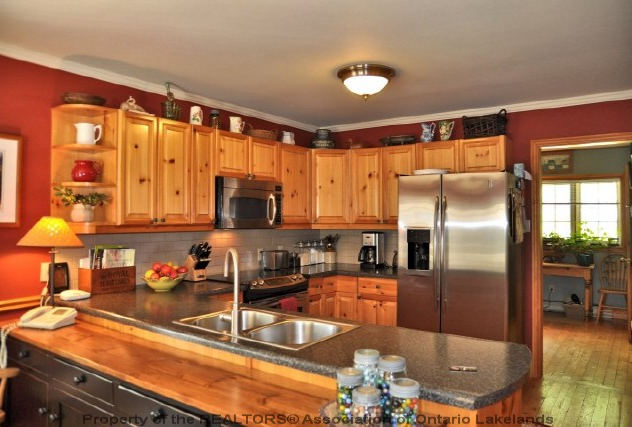 The 3500 square foot home/cottage is situated on 3 very private acres with 172 feet of frontage, southwest exposure, and gorgeous waterfront with clean deep water. 5 spacious bedrooms, 3 full baths, private master with ensuite and fully finished lower level. This property is perfect for those who have a large family or like to entertain. Features include an open concept eating/dining area with walkout to the extensive decks, a large kitchen w/ SS appliances, attached double garage, mudroom, main level laundry, and a floor to ceiling Temp-Cast Enviroheat Fireplace servicing the great room and lower level family room. The grounds contain extensive landscaping with granite rock walls, lovely perennial gardens with paths, and very easy access to the waterfront where there is a large deck to sit and enjoy the views. Conveniently located to snowmobiling trails, Sir Sam's Ski Resort, and the Haliburton Forest.
Please contact us for pricing and rates for this property.
Low Season: Tuesday after Thanksgiving to Friday of Victoria Day Weekend
Interim: Victoria Day Tuesday until weekend before July 1st weekend; Tuesday after Labour Day until Friday of Thanksgiving
Hi Season: Starting the weekend before the July 1st weekend
Holiday Weekends: Thanksgiving, Christmas, New Year's, Family Day, Easter, Victoria Day
• Unavailable
• Booked
• Pending Booking
• Available
• Long weekend
• Special (see property description)
July 2021
S
M
T
W
T
F
S
1
2
3
4
5
6
7
8
9
10
11
12
13
14
15
16
17
18
19
20
21
22
23
24
25
26
27
28
29
30
31
August 2021
S
M
T
W
T
F
S
1
2
3
4
5
6
7
8
9
10
11
12
13
14
15
16
17
18
19
20
21
22
23
24
25
26
27
28
29
30
31
September 2021
S
M
T
W
T
F
S
1
2
3
4
5
6
7
8
9
10
11
12
13
14
15
16
17
18
19
20
21
22
23
24
25
26
27
28
29
30
October 2021
S
M
T
W
T
F
S
1
2
3
4
5
6
7
8
9
10
11
12
13
14
15
16
17
18
19
20
21
22
23
24
25
26
27
28
29
30
31
November 2021
S
M
T
W
T
F
S
1
2
3
4
5
6
7
8
9
10
11
12
13
14
15
16
17
18
19
20
21
22
23
24
25
26
27
28
29
30
December 2021
S
M
T
W
T
F
S
1
2
3
4
5
6
7
8
9
10
11
12
13
14
15
16
17
18
19
20
21
22
23
24
25
26
27
28
29
30
31
For later dates, please see the Full Sold - Little Redstone Lake Availability Calendar
Gallery for Sold - Little Redstone Lake